Penny Poll:
Coming Soon!
Penny Image of the Week: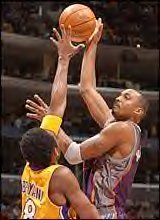 Penny scores 2 of his 25 points over Kobe Bryant, however his efforts were negated by the Sun's 117-94 loss to the Lakers

"WHAT THE!!!" NBA photo of the Week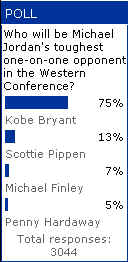 Ok, Site News, I will be adding a few things on this main/news page to make it a little more fun. I'll be adding a poll, maybe an interactive news ticker, and a quote of the week/month part. I can't wait for the season to start!
Things are looking promising for Penny and the Suns. If you are someone who hasn't been following the Suns, then you will be intrigued to hear that the Suns acquired Stephon Marbury to teamup with Penny in the backcourt. The 1-2-3 combination of Penny, Marbury and Marion will be very dynamic, and tough to stop. If anyone would like to debate this, you can hit up the Rising Sun: Penny 4 MVP Message Board and post their thoughts on anything NBA related. Come on Penny/Suns fans! Keep the hits coming! I'm trying to make this site a great resource for all NBA fans.
I updated a few things today. I worked on the Penny Gallery, where you can look at some pictures from Penny's career. I also updated the Penny Multimedia section. This is where you can find game clips of Penny. Wallpaper to put on your desktop is coming soon. I worked on the Multimedia section for like 3 days and I'd like to thank my girlfriend Simone for being patient while I worked on it. Talking and working is a tough thing to do. You'll have all my attention tommorrow at work Sim1. I love you! =). I'll get working on the About Me Section so you guys can know more about me and my beautiful Sim1. Umm.... I'll keep a hitcounter on it to see who cares about it =) haha Penny or any other NBA materials. This message board is neatly configured and neatly categorized. Check it out Here. Not a lot of news since my suns have made their exit. Just check out My NBA Thoughts for any kind of updates. Peace out.


1


3

Kings Advance to Semi-Finals


Well the offseason starts today for the Suns and from what I heard, there may be some major changes to the Suns' team for the 2001-2002 season. Check out my Recap and the Stats from the final game of the Suns' season. This isn't "goodbye" to the Suns, It's only a "See You Next Year" kind of thing. Penny will be back next season and stronger than ever.
Ok, for some site news. I just added a new section called My NBA Thoughts This section deals with how I feel on certain NBA news, and other stuff. Check it out.


1


0

Yeah! Suns One, Kings None! Check out my Recap of the game, and the Suns Scoreboard page for the official stats of the game. I put up the navigation below the banner yesterday, and the site is really looking good. I'll be adding a guestbook soon so come back soon.
Today, I just added the "Rising Sun: Penny 4 MVP" Logo It took me about 3 hours to make using Adobe Photoshop 5.5. I put a lot of effort into it so please don't hate =). I'll be putting some sort of Navigation up soon, so just drop back when you got time. You got a question? Hit me up at APENNYFAN@aol.com. I'll be getting form mail up in a few days so you guys could just e-mail me from my website! Anfernee Penny Hardaway. I decided to start this page because I started seeing that a lot of the Penny Hardaway fan pages on the internet were disappearing, and were no longer being updated. The only one I've seen that's still up is his own page at PennyHardaway.NET. I feel that people will start jumping back on the bandwagon next year, and I feel that I can be a reason for that. 2 days ago, Penny declared himself out for the Playoffs, meaning he will miss the series between his Phoenix Suns and the Sacramento Kings, led by Chris Webber. Penny and Webber's NBA history goes way back when they first entered the NBA. Although Penny will miss the rest of this year, he left a message for his fans, saying that, "Not to be able to play in the playoffs is a disappointment, but the sky is the limit for next year."
I knew Penny was going to be great once I saw him and Elliot Perry lead the Memphis State Tigers deep into the NCAA Tournament back in like 1992. I was probably around 8 years old at the time, but I remember seeing Penny dunk on this cat from the middle of the paint so hard, the cat who tried to block it was thrown to the ground by Penny's force. Although I knew he was good, I didn't expect him to get traded to my hometown team the Orlando Magic, after the Magic selected Chris Webber and traded him and 3 future 1st round picks for Penny. Penny was booed on draft night, as well as his whole career in Orlando. We'll get to my thoughts on that a little later. I remember the day Penny first became my favorite player. I was watching a road game between the Magic and the Golden State Warriors, the battle between Chris Webber's team and Penny's team. During the game, Penny led a fast break, and he tried to dunk the ball on the break. I remember seeing him jump so high, that I was amazed he didn't hit his head on the rim. He ended up missing the dunk, and getting booed once again. I was amazed at this play, and I started watching him develop into one of the NBA's best players. For up to date news, click here
Penny Quote of the Week


"I told myself I was never going to go out like that again. The Suns brought me in to be the guy I was, and that's what they're going to get every single night."

- Penny on scoring 1 point in the season opener then averaging 27.3 points in his next 3.

Quote on Penny


"Heeee's Baaaaaack!"

- Rockets TV analyst after Penny connected on 2 of his 31 points.

NBA Quote of the Week


"That's the greatest player ever.... but he's still not gunna make the playoffs."

- Charles Barkley referring to Michael Jordan during opening night warmups.