Penny Image of the Week: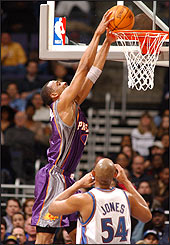 Penny jams in an Alley-Oop on the Wizards

"WHAT THE!!!" NBA photo of the Week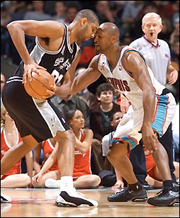 Tim Duncan gets up close and personal.

The 21-22 Suns take on the 9-33 Bulls today. I would like to say this is an easy win, but anything can happen especially when the Suns have lost to the Knicks and Wizards who aren't exactly the most prominant teams in the league. The Bulls are 1-17 on the road this season. Expect big numbers from Penny tonight if it isn't a blowout game. I mean who's going to guard him with Mercer out? Ron Artest isn't exactly the quickest defender in the world, and you can forget about the 6 foot point guards, Kevin Ollie and AJ Guyton.
Hey look you guys! I updated the "things of the week." Or did I call it the "stuff of the week?" Oh well, I updated and I hope to be doing it regularly if I"M NOT GROUNDED! 1000 Hits! I never expected to hit this milestone, but it happened! I believe it happened yesterday because I myself was the 1001st hit. I remember when I first started this site on 4/20/01 10:25 AM Eastern. I was in BST 2 (computer) class and my boy Bryan Leavell pissed me off by saying how much Penny sucked. So thas when I got on my computer and started "Rising Sun: Penny 4 MVP". Hmm... 420, everyone musta been home smoking weed or something.
As you guys know I haven't been updating regularly, but now I'm back from almost a 2 month abscense! I know what you guys were thinking. "Well now that Penny's not doing all that well he probably went into hiding!" You guys should know that I'm a die-hard fan and wouldn't say die that easily. If you really wanna know I've been grounded on and off for the past 2 months. While I've been away, Penny's numbers have dropped to about 15 PPG, 5 RPG, 5 APG and 2 Steals. Meaning in the past 2 months, his points have dropped off about 3.5 points. Sure this is a little indication that he's been slowing down a little, and it pretty much proves that where he goes, the Suns go. The Suns have lost 7 of their last 10 games. Penny has vowed to step up his scoring recently and I know he can do it. He held Ray Allen to 2-15 shooting in a 92-81 win in Milwaukee. Tonight the Suns travel to New York to take on the Knicks. Another All-Star 2 Guard will be waiting to match up with him there. Allan Houston or Latrell Sprewell will have the defensive assignments on him tonight. Not an easy task as Vince Carter found out last night. Carter had 18 points on 6-23 shooting in 48 minutes. Spree torched Carter for 35 points (and for those who want to know, Carter guarded him for most of the night)! If Penny can hold Ray Allen, I believe he'll be able to hold either Spree or Houston. Hmm... as a matter of fact, I think Ray Allen is sorta a combination of both Spree and Houston...
Anywayz, more news. I will be trying to update everyday for now on until I get grounded again. I'm scheduled to take my SAT this saturday (wish me luck), so I may be a little busy in the next week. I believe I need a 440 Math and 440 Verbal score to get a 75% scholarship. My baby girl Sim1 has been helping me study. She got like a 13xx on her PSAT so I'm getting good help. Anyone feel free to e-mail me to give me some tips =P
Well I gotta go pick her up now so I'll be on later tonight to check up on the game and update all the "stuff of the week". Aight, Peace out! Form Mail Page to e-mail me and tell me what you think. I wanna thank my girlfriend Sim1 for evaluating the movie first. I'd also like to thank her for her patients while I was working on the Flash. Another thing I did was add a "Start/Stop" button for the music near the "Rising Sun: Penny 4 MVP" logo. Yeah, go ahead click it! It actually works! Took me about 4 hours to do, but hey, It's all good! I just wanted to let everyone know that I got mad images/movies uploaded, I just haven't had the time to post them up. I'll do that as soon as I can.
The Suns Take on the Blazers tonight and are only 3 games back of the Second place Kings in the Pacific Division! I'm looking forward to the Derek Anderson and Penny matchup. That should be interesting. Well aight, I'm probably gunna go play some ball tonight for the first time in like 2 months. I'm gunna be mad rusty but it's all good. Peace out everyone! My Daily Thoughts section for more on that and some updates. More site updates include a flash movie I've been working on in the last 2 weeks! Here's a preview of things to come. It should be up soon. Dayam! gotta pick up my girlfriend from school! I'm gunna be late! gotta go, peace.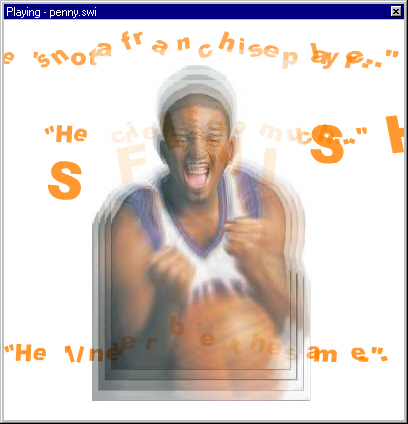 I TOLD YOU SO. More in depth analyst of this game when I get ungrounded!
Okay, anywayz, at school today I was thinking of some ways on how I could improve the site and I was thinking about how hard it is to update. Then I was wondering how the people with old Penny sites updated. You guys with them old Penny sites really inspired me. So if the owners of a few sites like "Maximum Penny" (www.Penny-Hardaway.org which is now some kinda porn site), "Prime Time Penny" (www.ptpenny.com), "Penny Hardaway Central" (http://fly.to/phc), "Penny Online" (http://penny2000.virtualave.net) and "Penny's Pram" (http://members.nbci.com/dugal/enter.html) could send me an e-mail or anything, I'd appreciate it. I just wanna thank you guys for the hard work and determination you put in to your sites, even if you don't like Penny no more.
The Suns are 1-3 and looking to get a win tonight versus Memphis. Look for Penny to have a field day on Michael Dickerson and company. In 3 games, Memphis is allowing more than 98 points a game. Dickerson and Nick Anderson will probably be sharing defensive duties on Penny and I honestly think this matchup favors Penny. Look for a big game from #1. For the Suns to win this game, they're going to have to play a good defensive game to slow down the high octane offensive players of Memphis such as Jason Williams, Lorenzen Wright and Stromile Swift. If the Suns are heavily outrebounded, don't expect them to win. Memphis has a team that can get out on the break. The Suns need to figure out a way to crash the boards and not allow Wright who's averaging 17 rebounds a game to get in the flow. Matrix, Big Jake Tsakalidis and Lil Jake Voskuhl are gunna need to box out. If everything goes well, Phoenix will win. My prediction? 109-97 Suns E-mail page where you can rate my site, and give me some feedback. You can ask me anything and I'll do my best to get back to you. I'm also looking to make a opening flash movie. It's gunna be tight!

For older news, Click here





Penny Quote of the Week


"Hopefully, I'm on my way to playing like this consistently, because the shot has really helped."

- Penny after scoring 28 points on the Knicks and referring to the cortison shot he received to treat his ailing knee.

Quote on Penny


"It was an outstanding job on Ray Allen. He really trailed him hard."

- Scott Skiles on Penny holding Ray Allen to 2-15 shooting in a 92-81 Victory on 1/22/02.

NBA Quote of the Week


"It's hard to stop somebody when he's got the ultimate green light and when (he) gets hot, he's one of the best players in the league. Plus, he's fast as all hell!"

- Cuttino Mobley after being lit up for 58 points by Allen Iverson.