Penny Poll:
Coming Soon!
Penny Image of the Week: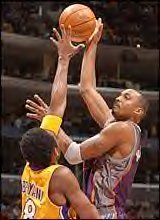 Penny scores 2 of his 25 points over Kobe Bryant, however his efforts were negated by the Sun's 117-94 loss to the Lakers

"WHAT THE!!!" NBA photo of the Week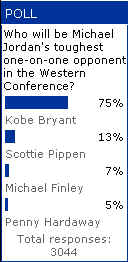 Okay, anywayz, at school today I was thinking of some ways on how I could improve the site and I was thinking about how hard it is to update. Then I was wondering how the people with old Penny sites updated. You guys with them old Penny sites really inspired me. So if the owners of a few sites like "Maximum Penny" (www.Penny-Hardaway.org which is now some kinda porn site), "Prime Time Penny" (www.ptpenny.com), "Penny Hardaway Central" (http://fly.to/phc), "Penny Online" (http://penny2000.virtualave.net) and "Penny's Pram" (http://members.nbci.com/dugal/enter.html) could send me an e-mail or anything, I'd appreciate it. I just wanna thank you guys for the hard work and determination you put in to your sites, even if you don't like Penny no more.
The Suns are 1-3 and looking to get a win tonight versus Memphis. Look for Penny to have a field day on Michael Dickerson and company. In 3 games, Memphis is allowing more than 98 points a game. Dickerson and Nick Anderson will probably be sharing defensive duties on Penny and I honestly think this matchup favors Penny. Look for a big game from #1. For the Suns to win this game, they're going to have to play a good defensive game to slow down the high octane offensive players of Memphis such as Jason Williams, Lorenzen Wright and Stromile Swift. If the Suns are heavily outrebounded, don't expect them to win. Memphis has a team that can get out on the break. The Suns need to figure out a way to crash the boards and not allow Wright who's averaging 17 rebounds a game to get in the flow. Matrix, Big Jake Tsakalidis and Lil Jake Voskuhl are gunna need to box out. If everything goes well, Phoenix will win. My prediction? 109-97 Suns E-mail page where you can rate my site, and give me some feedback. You can ask me anything and I'll do my best to get back to you. I'm also looking to make a opening flash movie. It's gunna be tight!
Ok, Site News, I will be adding a few things on this main/news page to make it a little more fun. I'll be adding a poll, maybe an interactive news ticker, and a quote of the week/month part. I can't wait for the season to start!
Things are looking promising for Penny and the Suns. If you are someone who hasn't been following the Suns, then you will be intrigued to hear that the Suns acquired Stephon Marbury to teamup with Penny in the backcourt. The 1-2-3 combination of Penny, Marbury and Marion will be very dynamic, and tough to stop. If anyone would like to debate this, you can hit up the Rising Sun: Penny 4 MVP Message Board and post their thoughts on anything NBA related. Come on Penny/Suns fans! Keep the hits coming! I'm trying to make this site a great resource for all NBA fans.
I updated a few things today. I worked on the Penny Gallery, where you can look at some pictures from Penny's career. I also updated the Penny Multimedia section. This is where you can find game clips of Penny. Wallpaper to put on your desktop is coming soon. I worked on the Multimedia section for like 3 days and I'd like to thank my girlfriend Simone for being patient while I worked on it. Talking and working is a tough thing to do. You'll have all my attention tommorrow at work Sim1. I love you! =). I'll get working on the About Me Section so you guys can know more about me and my beautiful Sim1. Umm.... I'll keep a hitcounter on it to see who cares about it =) haha

For older news, Click here
Penny Quote of the Week


"I told myself I was never going to go out like that again. The Suns brought me in to be the guy I was, and that's what they're going to get every single night."

- Penny on scoring 1 point in the season opener then averaging 27.3 points in his next 3.

Quote on Penny


"Heeee's Baaaaaack!"

- Rockets TV analyst after Penny connected on 2 of his 31 points.

NBA Quote of the Week


"That's the greatest player ever.... but he's still not gunna make the playoffs."

- Charles Barkley referring to Michael Jordan during opening night warmups.